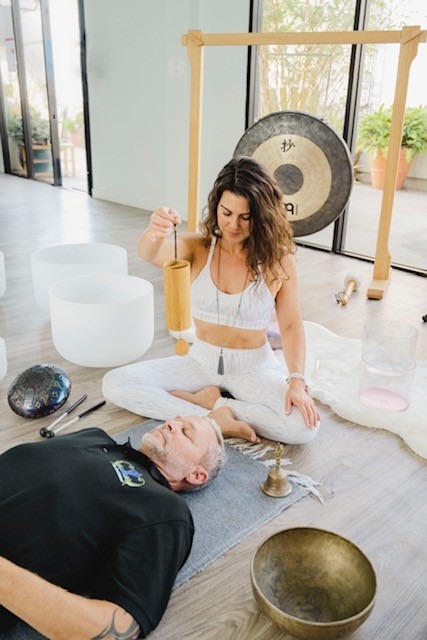 Sound Bath at Buddhi Yoga – La Jolla – May
Zen Soul Balance sound healing experience utilizes frequency, vibration, silence and stillness to create a relaxing and beautiful space that promotes a sense of calm and peace through crystal & brass singing bowls, gongs, drums and chimes.
This 60 minute sound bath opens with breath awareness and gentle body movement to release tension before settling into a comfortable resting position.
Sound meditation is a holistic health and wellness modality that helps to restore the physical, energetic and emotional states.
Benefits of Sound Healing in San Diego:
– Reduces stress and anxiety
– Lowers heart rate and blood pressure
– Encourages deep relaxation which aides in meditation
– Triggers the brain to chemically release natural opiates
– Awakens, aligns and balances the chakra energy centers in the body
– Engages the parasympathetic nervous system, initiating calm and peace
Join the ZSB Team at Buddhi Yoga in La Jolla for an evening of self-care. We understand that healing comes from the inside and it is our intention to hold space for anyone interested in recalibrating and optimizing their health. This sonic experience will leave you feeling rejuvenated, balanced and centered.
It is suggested to bring a yoga mat or you can rent rent one from the studio. There are blankets and bolsters that will be setup for you upon arrival. You are welcome to bring additional props for comfort such as an eye pillow or small towel to cover your eyes.
** Reserve your space on the Buddhi Yoga MindBody page **
Our San Diego Offerings
In addition to our Sound Baths, we offer additional classes around San Diego, including:
• Yin Yoga Classes & Trainings
• Private Sound Healing Sessions
• Mindfulness & Meditation Support
• Nutrition Classes
Contact us today to learn more.