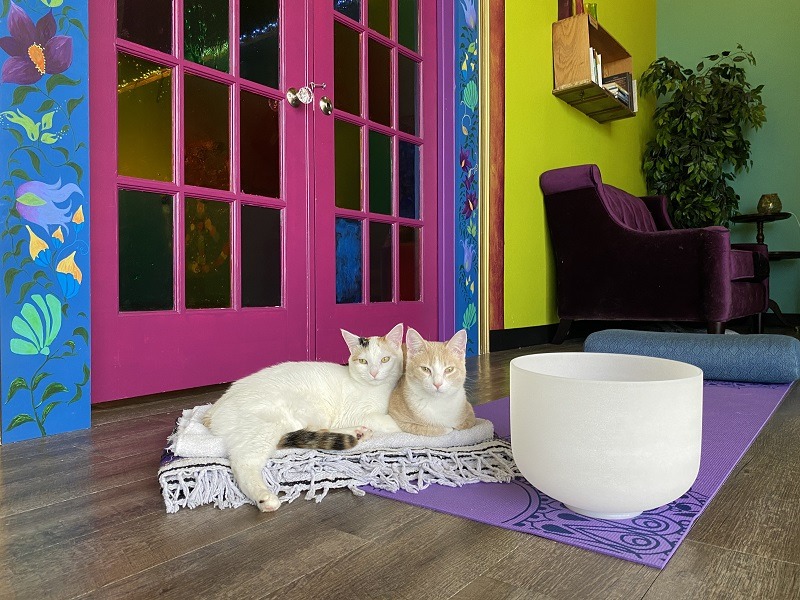 Online Restorative Yoga – Be In The Meow
This is a 60 minute online Restorative Yoga class with Jeny of Zen Soul Balance and the Cats of Fly & Love Yoga Lounge that promotes full body relaxation and rejuvenation with passive stretching focused on slowing down. These restorative yoga poses will calm and reset your entire body and mind leading to a healing and recuperative experience. This class is beginner friendly and open to all levels!
Start by watching these two free videos What is Yin Yoga and Meet Jeny.
Learn about discounted membership pricing: click here
The cats provide a calm, loving energy and perfect match to yoga! A portion of all proceeds will be donated to this animal welfare charity.
 What To Expect Online
• Deep relaxation
• Long, meditative stretches
• Reduction in stress & anxiety
• Soothes the nervous system
• Encourages mindfulness
Restorative Yoga Online Benefits
This is your opportunity to disconnect from the frenetic activity of daily life and slow down into the present moment. Whether you are practicing Restorative Yoga with Jeny of Zen Soul Balance in San Diego Online, at Riffs Yoga Studios or Live Private Sessions, some of the many benefits include:
• Stills the mind
• Enhances flexibility
• Enhances mood states
• Boosts Immune System
• Increases capacity for healing and balancing
San Diego Yoga & Sound Bath Training
Zen Soul Balance highlights the complementary modality of Sound Healing and its reciprocal effects within a Restorative practice in San Diego. To learn more about the history, theory and technique of Yoga and Sound Healing in La Jolla, visit the events page.
Restorative Yoga Classes Online San Diego
We understand that learning to practice yoga online is an adjustment for many people. The good news is that once you take the plunge it becomes very convenient since the schedule is flexible, it's cheaper than studio fees, less intimidating for many, and it's travel friendly! We are here to support your online yoga journey with a variety of class options to help you release stress, find balance, become more flexible, get in tune with your body, and boost your overall wellbeing. Let us know how we can help you! Email us today.